SHELA HAT CONTEST: LAMU's MOST EXCITING EVENT!
Shela beach was a buzz of activity as early as 8.00am on Saturday, the 18th of February 2023. Since the hat contest started in 2010 as a biannual event, every other two years Lamu local people come together to celebrate creativity and innovation. The contest invites members of the community to create a hat from used objects found in the area.
Lamu island has evolved being a forerunner of sustainability so nearly each hat conveys some sort of environmental or political message about the community's most pressing needs and worries, via a surprising medium: hat-making!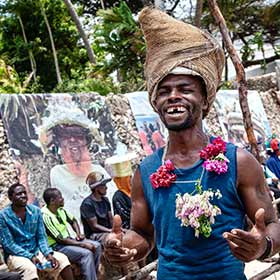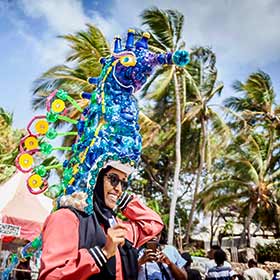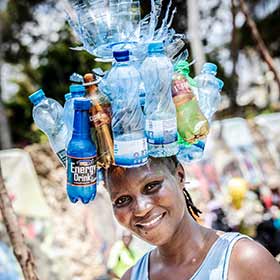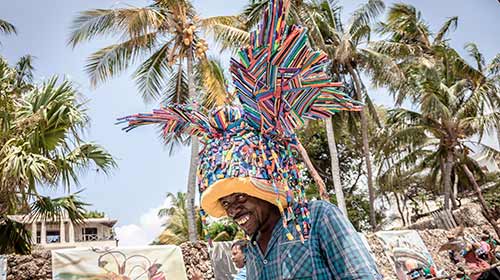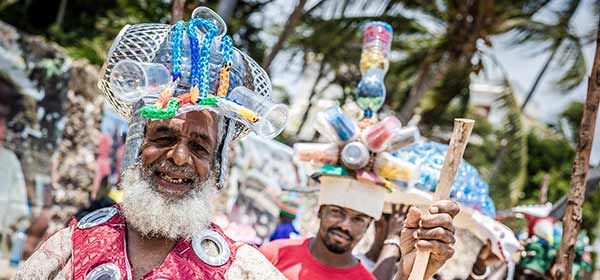 There was no end to the variety from the materials used – from chewing gum wrappers, lighters, flip-flops, gumboats, plastic bottles & pipes, cement & nylon bags, bones, shells, palm leaves, weird fabrics, wires, coral, driftwood pieces.
The prize money is a significant amount, so much so that sometimes groups are formed in a collaborative effort to get together to design a 'collective' hat and split the winnings. As you can see from the portraits, designs vary from complex structures crafted over several weeks. Nearly nobody of the contestants is artistically trained. The skills and creative talents are often self-taught.
Nils Korschen, Caroline Grout de Beaufort and Niketa Fazal made up the judging panel this year.The 200 entrants were narrowed down to 30 finalists as per their scores and final decisions were made based on skill, craftsmanship, originality and story.
The overall winning hat was made out of plastic bottles put together in a clever design with colour coordination and it even had a light flashing inside of it, while second prize was one by a scorpion hat made entirely out of flip flops, third prize was won by a miniature model of Lamu hat made up of recycled materials complete with a pump and water denoting the sea, it was an engineering and design triumph.
All in all, the results were beautiful, bizarre, hilarious – and everything in between, demonstrating the skills, the talents and good humor of the Lamu local people.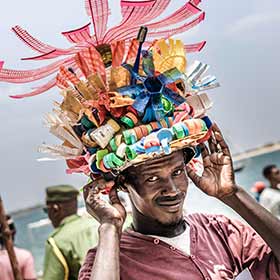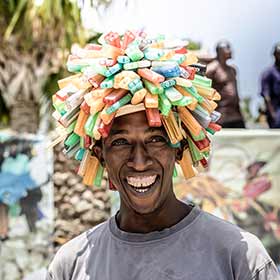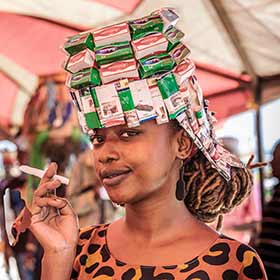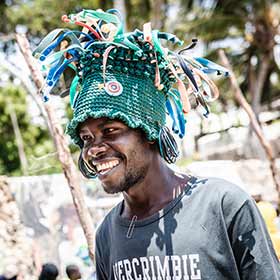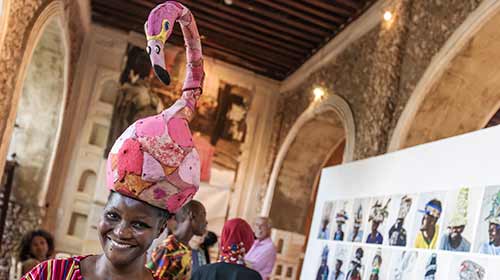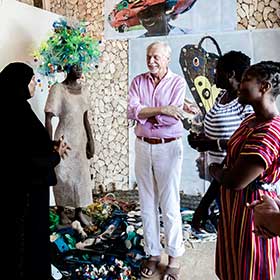 Many thanks to Mohammed Sultan (Senior Chief), Hamid 'Shuruti' Mohammed, Abdalla Fadhil, Chairman Abdulalim, Omar Mauli, Ahmed Mwarabu, the Shela Welfare Group & the people of Shela.
Special thanks to Atwaa Mohammed, Shela M.C.A. & Hon. Aisha Abdalla Miraj, Lamu County Minister of Tourism.
Special thanks to the members of the jury, Nils Korschen, Caroline Grout de Beaufort, Niketa Fazal.
Exeptional thanks to Salim Mirza & Omar Ali Mafreezer for their tireless commitment.