Mad Hatters drive Peponi beach crazy!
Every other two years since 2010, the unbelievable creativity of ordinary Kenyans comes alive for the public during the biannual Shela Hat Contest that happened again on 29th of February 2020 on legendary Peponi beach. This year was no exception except the public witnessed more imagination, creativity, enthusiasm and originality than ever before.
The contest is open only to African local people taking the challenge to design artistic hats from used materials such as pipes, bones, shells, palm leaves, plastic, fabrics, coral and paper from cement bags.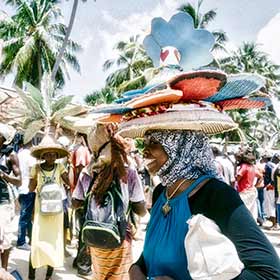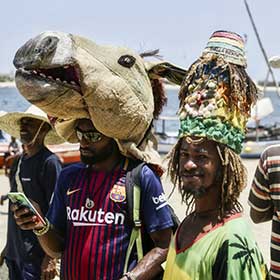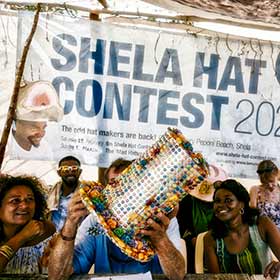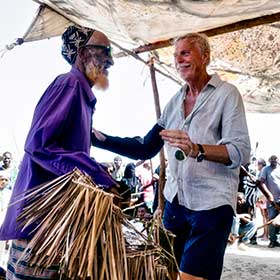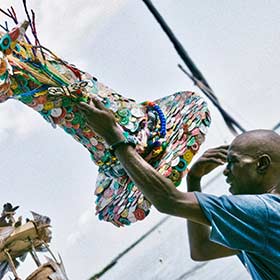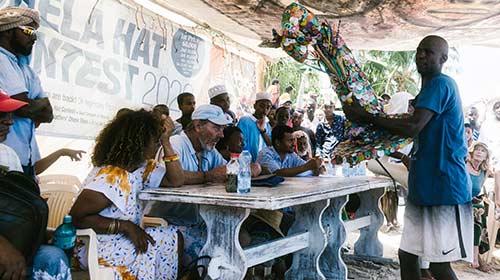 The sixth Shela Hat Contest attracted almost 150 different hat-creations.
Under a hot Shela sun the hatters stood in line until they got chance to take center-stage where the judges carefully appraised each hat and judging for quality of craftmanship as well as creativity and originality. 'Judging is never easy, but this year we gave first prize to a woman, Rose Nakimi, who we could see had put a lot of effort into making her hat', said Nils Korschen who with Fatima Khan-Phillips und Ruth Rukwaro judged the competition both this year and in 2018.
Rose had finely shredded plastic soda bottles to make a stunning multicolored bouquet. But plastics were not the only trash that got cleared by creative hat makers this year. Everything from hammered bottle tops, rubber flip-flops and light bulbs used as locust's eyes to lobster fishnets, shark bones, coconut shell, driftwood and hessian sacks were used to display a wide range of colorful conceptual hats.
Political statements are mandatory as Lamu is to be seen as a forerunner for sustainability issues, clean beaches and civil protest against the coal plant and harbour extension. Unwanted boda boda drivers who are seen as menace to Lamu inhabitants who are more comfortable being a car-less UNESCO heritage site than a boda-boda speedway.
The beach party was ongoing till late, great sounds of DJ ChouChou and DJ Satan kept the crowd dancing. No island like Lamu island!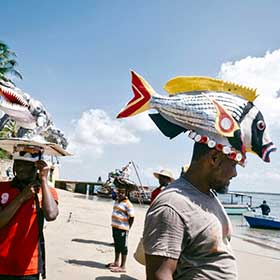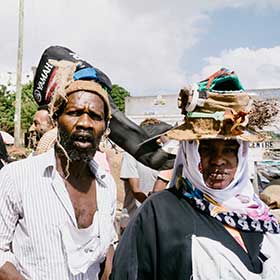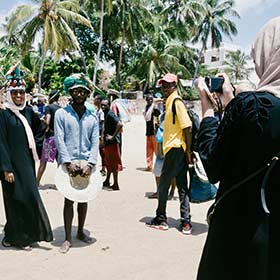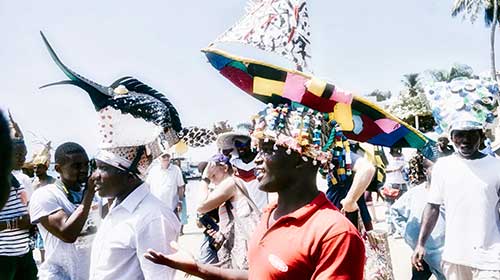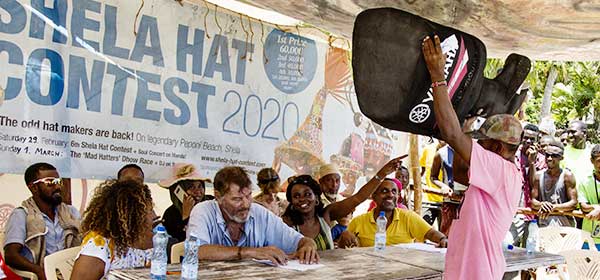 Many thanks to Mohammed Sultan (Senior Chief), Hamid 'Shuruti' Mohammed, Omar Mauli, Ahmed Mwarabu & the Shela Welfare Group, the members of the jury, Niels Korschen, Ruth Mukami, Fatima Phillips, and the people of Shela.